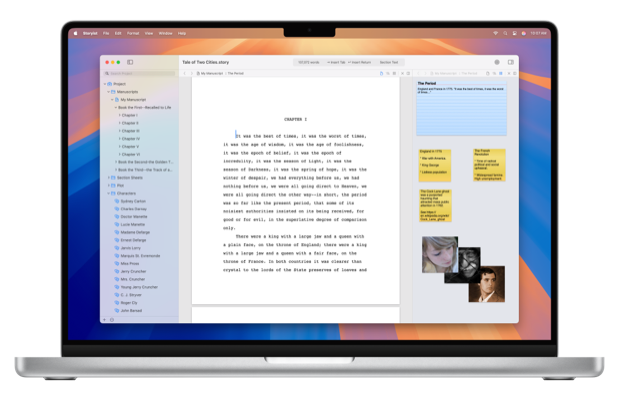 Storyist
for Mac
Download Free Trial | See What's New >
(Version 3.5 is compatible with macOS High Sierra)
Full-Featured Word Processor
Storyist for Mac includes the word processing tools you expect from a top-notch writing application.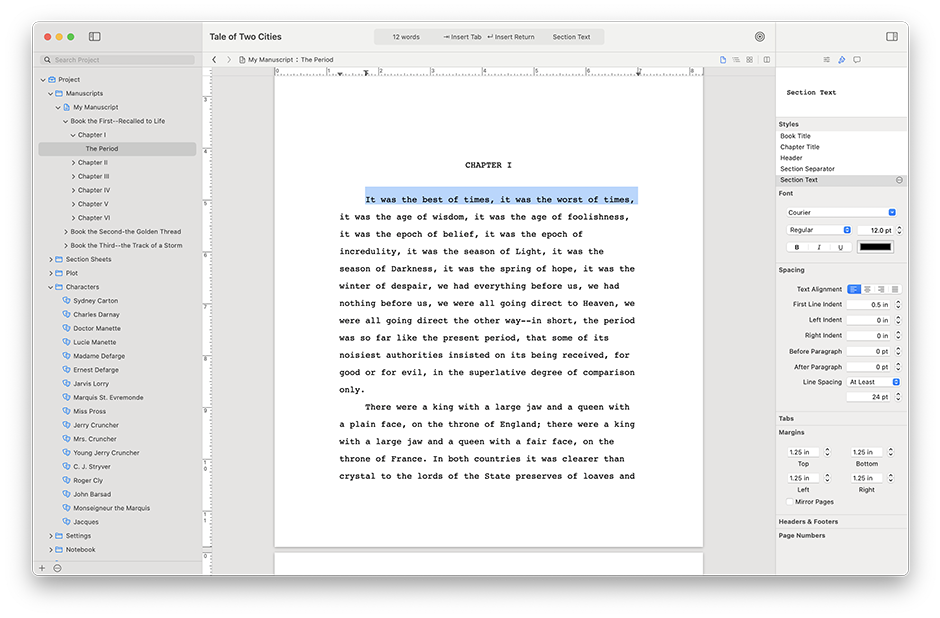 Stylesheets
Storyist provides stylesheets for common manuscript and screenplay formats, but that doesn't mean you can't create your own. Using the built-in style editor, you can customize your manuscript to reflect your personal preferences.
Page Layout
Whatever happened to "what you see is what you get?" There is nothing like seeing your words on the page, and Storyist has the tools to put them where you want them.
Images, Comments, and More
Storyist also includes support for images, comments, spell checking, smart quotes, headers, and footers.
Screenwriting Support
Storyist comes with a screenplay template and provides several powerful formatting features to help you get your ideas on the page.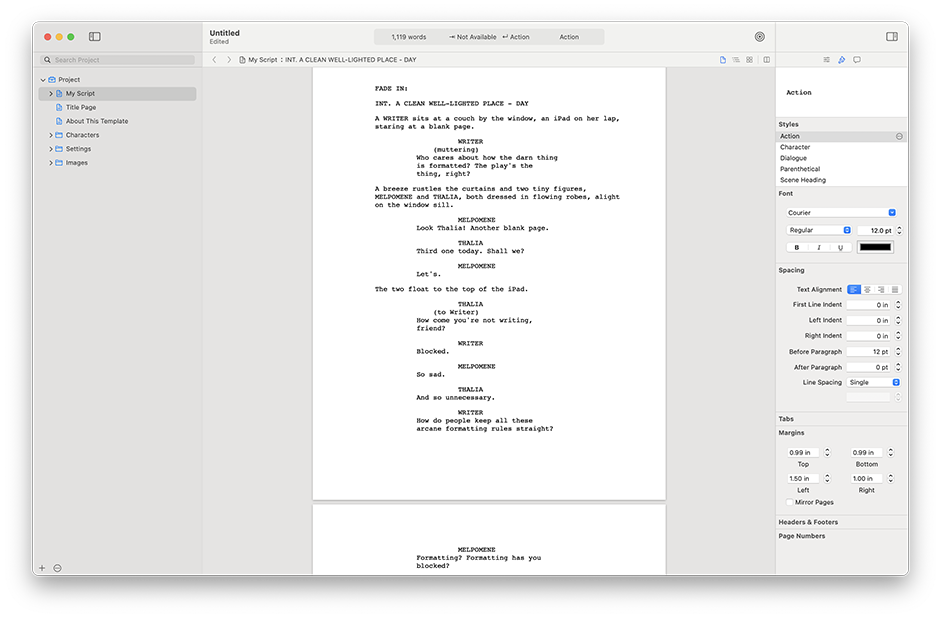 Quick Styles
Tab and Return key shortcuts make changing between standard screenplay elements as simple as typing a key or two.
Smart Text
As you type, Storyist collects your scene introductions, locations, times, character names, and transitions and auto-completes them for you when you need them.
Plays Well With Others
Storyist imports and exports Final Draft FDX and Fountain scripts, so you can share your work with other screenwriters.
Flexible Outliner
Do you start a new project by writing an outline? Want to outline an existing manuscript or screenplay to get a better understanding of the structure? Storyist provides an outlining tool that lets you quickly get a high-level view of your story.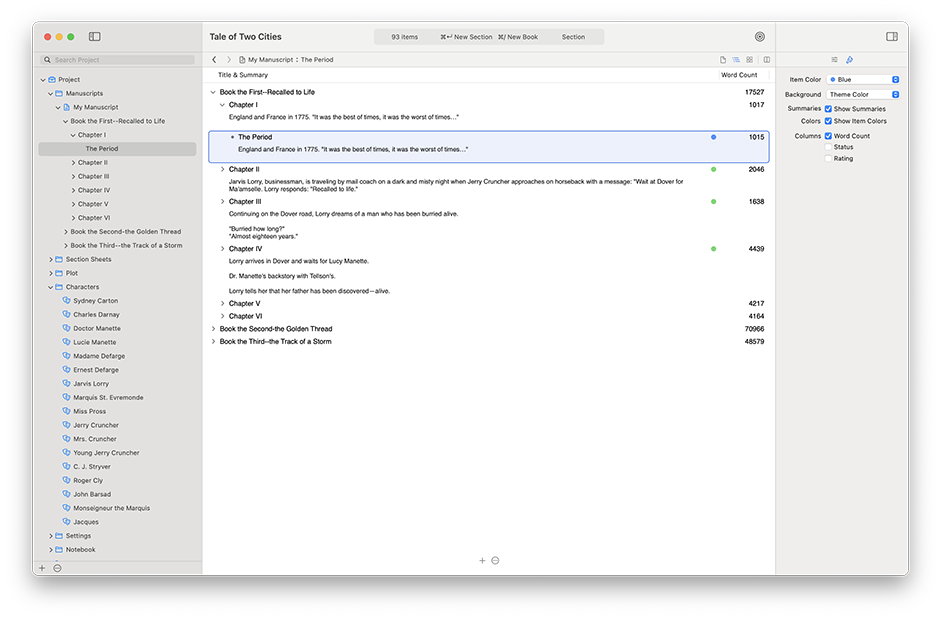 Story Development Tools
Sometimes you want to put a face to a name. Storyist lets you cast your novel or screenplay with images from your photo collection or the web. You can also view, edit, and arrange your scenes as color coded index cards on a corkboard.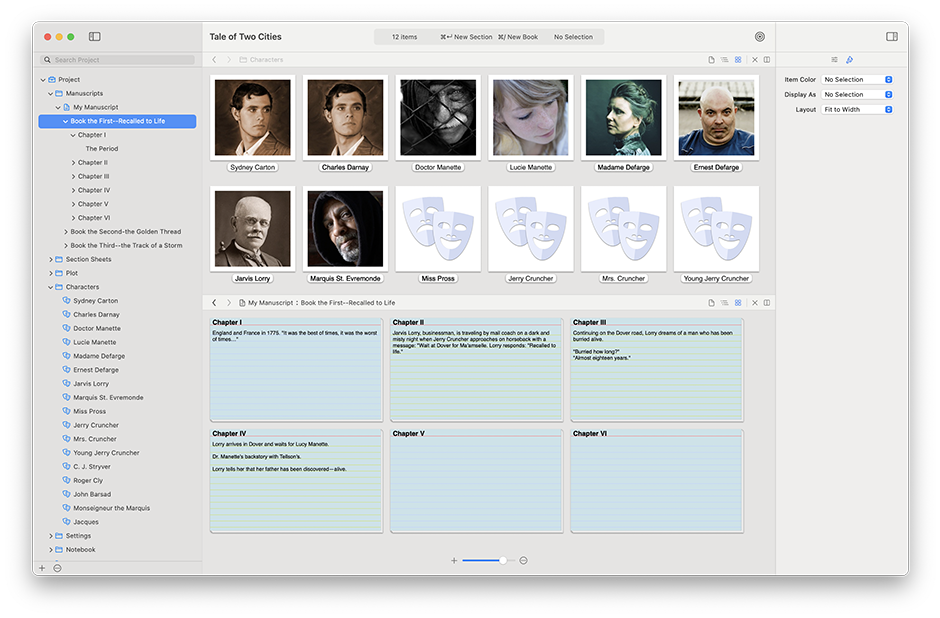 And More
Storyist provides a full suite of writing tools to take you from initial planning to finished manuscript, book or screenplay.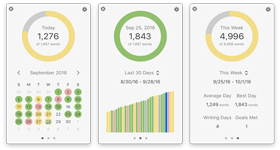 Word Count Tracking
Storyist can track both a daily word count goal and a project word count goal. You can use the Project Info inspector to set these goals and track your progress.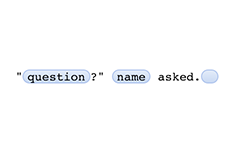 Snippets
A text shortcut facility lets you define multi-part text snippets (bits of text) to be inserted with just a few keystrokes. Default snippets make it a snap to write dialog without having to type the punctuation characters.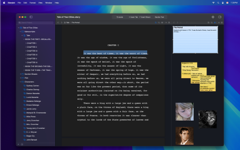 UI Themes
Use the Appearance preference pane to customize fonts, colors, and backgrounds. And on Yosemite and later, Storyist provides a "dark mode."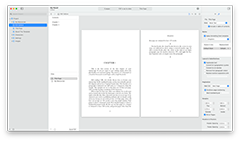 Print-Ready PDFs
Use the new book editor in Storyist to turn your manuscript into a print-ready PDF. You can add front matter (like a table of contents); specify verso/recto pages; and set trim size, margins, and bleed.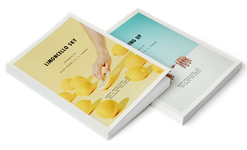 Blurb Trade Book Templates
Storyist has partnered with Blurb, a popular self-publishing platform, to provide you with book creation and distribution tools that make it easy to print and sell your work. Use the included print-optimized templates to quickly build beautiful Blurb Trade Books.

ePub and Kindle Editions
Storyist can create ePub and Kindle ebooks for reading in your favorite ebook reader or publishing on iBookstore or Amazon.com.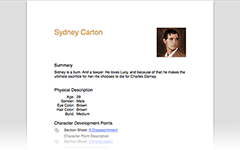 Story Sheets
Story Sheets are editable forms tailored for novel writing and screenwriting. You can use them to record information about various aspects of your story. Storyist comes with Story Sheets for plot, character, setting, and section. And Story Sheets are customizable so you can capture the information you want to capture.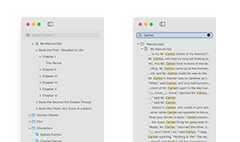 Project Organizer
The Project organizer keeps all of your writing organized and accessible. One click takes you to your manuscript, a story sheet, or a notebook entry. And the project-wide search capability lets you easily find what you've written when you need it.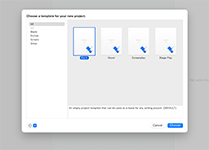 Templates
Storyist comes with templates to get you up and writing quickly. Have a writing system of your own? You can create a template to use on other projects or share with other writers.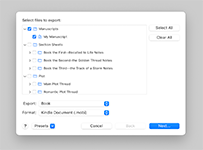 Import and Export
Want to share your Storyist manuscript with others? No problem. Import/Export formats include Rich Text Format (.rtf), HTML (.html), Text Only (.txt), Open Office (.odt), Microsoft Word (.doc and .docx), Scrivener (.scriv), Final Draft (.fdx and .fcf), and Fountain (.fountain).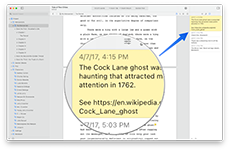 Comment Inspector
The comment inspector lets you add, edit, and delete comments. Comments are searchable, so you can quickly find the comment you're looking for and jump to the appropriate section in your manuscript.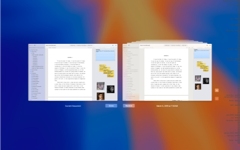 Autosave and Versions
Storyist uses Apple's Versions technology to periodically make copies of your entire project. Versions are created automatically each time you open a project and every hour while you're working on it. You can also create versions manually, for example at the end of a draft.